出國留學,遊學,及國際認可英語一站式教育平台
Overseas Education Solutions For Your Total Success
"EduSteps online English courses and live teacher support improved my english so quickly. Being able to earn money whilst learning is a great motivator"
​
What do I learn from "Grammar" lessons?
Welcome to Edusteps' online private English learning, where you can learn & earn $ all at once!
I am going to show you just how simple it is learning all the annoying and complicated grammar applications with us!
We will show you all the grammar rules in easy to remember charts and tables so that you can easily visualize and remember them when applying them to form sentences or writing essays.
​
Yes! Unfortunately, English grammar has a lot of "EXCEPTIONS TO THE RULE" that can annoy just about anyone! But don't worry, we will bring them to your attention in an easy to understand way so you are aware of them!
From each of our grammar lessons, you are going to get easy explanations of how THAT particular grammar is used in the context of sentence writing.
Charts & tables to show you visually just how easy and simple it can be!
We list out the "HOWEVERS" and "EXCEPTIONS TO THE RULES" so you know what NOT to do!
At the

END

of each lesson, you will

KNOW

what you

CAN

and

CANNOT

do,
What is

CORRECT

and

INCORRECT!
​
After understanding the lesson, you are

NOW READY

to start on your homework assignment!
​
Now is your turn to show us all that you learned and have it all figured out! Our homework assignment are filled with exercises such as:
​
​
​
​
​
​
​
​
A lot of times, we get confused about which tense to you. This exercise help you read through the sentences and see if you can choose the form tense form.
How to properly write out questions and answering questions using the right tenses.
Complete the sentences and choose the right tenses. It helps you see a complete sentence and tense usage for your own writing.
Applying what you have learned to form grammatically correct sentences. This is the backbone to clean and clear passage writing.
​
What do all these exercise have in common? Intrinsically making you a better writer and speaker with correct grammar! These exercises will let you learn and instinctively feel the sentences "sound" right or wrong.
​
Also! Did I tell you that technology allows us to embed many great amazing tools within your learning so that a teacher is by your side 24/7!
​
​
​
​
​
​
​
​
​
​
​
​
​
​
​
​
​
All these are found in 1 lesson of our certified English Grammar
learning class! What are you waiting for?! Come!
Found out more! Be a part of our Learn & Earn English program!
Be in control of your own English learning!

​
​
​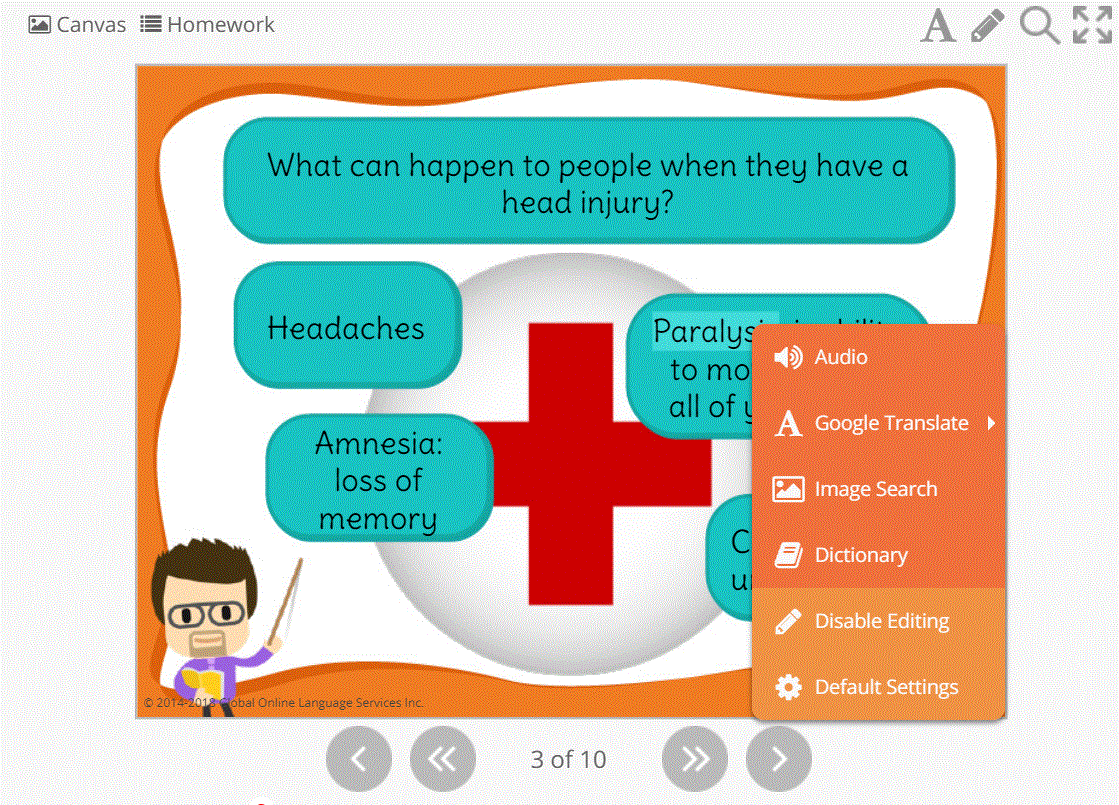 Anytime you don't know how to pronounce the words,
want to listen to how it is said, or understand the meaning of
the word, all you have to do is highlight it and right click
to find all those embedded functions we have ready for your disposal!
Fill in the Form and

Take the Free

English Placement Test

NOW!
I want to learn more about:
What is in each lesson?
​